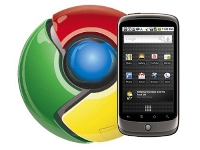 Its a cool feature under the chrome extension "Google chrome to phone". It allows to transfer HTTP and HTTPS from chrome to your phone. Imagine you found a cool site in while browsing the net and wished it to continue reading it in your mobile device or you found a nice place in Google map and liked to transfer it to your mobile device. The chrome to phone extension allows those things synchronize with your phone through your Google account.  What it actually does is it sends the HTTP or HTTPS link to your phone through Google account and the default browser of your mobile opens it for you. the links are booked marked and saved under the app of Google chrome to phone. While transferring Google map it sends the coordinate of the map within the links.
I found it quite helpful and using it regularly.  It also transfer the phone no to phone and ready to dial. I wonder if it allows to transfer the links to friends too. If it does then no doubt it would be best gadget on your mobile device.
Follow the steps to give it try:
install the chrome extension "Google chrome to phone" in chrome browser
run the extension and sign in with your Google account
download the app called Google chrome to phone app
Register the same Google account in the app
you can select automatic/manual setting as you prefer. Automatic is what the best selection.
Now you are ready to go
when you click the extension on top right hand corner, you will receive the link in your phone.