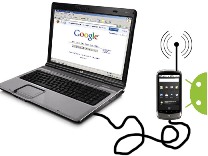 I have desktop at home with dial up connection and I was thinking of adding network LAN card for ADSL and local networking. Most of modern desktop has inbuilt LAN card although all desktop required additional gadget to receive WiFi signal.
The android's ADB platform has provided an option called tethering, both wireless as well as usb (wired) tethering. The tethering allows to connect to internet/LAN network through GPRS or WiFi whichever is connected to your phone. Tethering and portable hotspot is provided on froyo and higher version.
According to my research, there are two ways to transform your android mobile into WiFi receiver.
For rooting the android device, read this article.