Music & song, they are beautiful. Music is abstract and it touches our soul. While Song may not be as universal as music. Recently I am participating in singing of traditional song and local tune. Man its tooo hard than I thought. Its seems effortless when Guru sings but while we tried, we ran out of breadth to catch rhythm. Which only means more practice so we recorded the audio of song. That doesn't made any better since it divided our attention into two. TUNE and LYRICS. While we are listening to the recorded audio, we had to carry printed lyrics with us.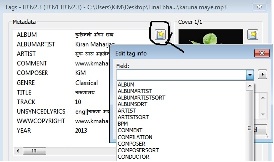 To combine them both I Googled it and found a cool software "mp3 tag". Its a simple program to tag Artist, Album, Cover etc….. and also lyrics. Just browse the folder containing recorded song and fill the form about Artist, Album etc selecting a song and save it. To add additional information just right click to the song and click "extended tags".  Click to add fields and select additional fields from drop down list. Among the list there is "UNSYNCEDLYRICS" which is not chronologically synchronized with song but shows full lyrics while playing song.
After tagging information in songs, I played the songs in PC and mobile. In PC it worked fine, songs are sorted in album, artist and so on. While playing it also displayed full  lyrics. In mobile songs were arranged according to album, artist etc but couldn't find lyrics which was tagged. Most of default  music players  doesn't compatible with lyrics. Some music players such as power amp, winamp etc are capable to show the lyrics.
Which solves my problem and now enjoying audio with lyrics and the progress is significant now.