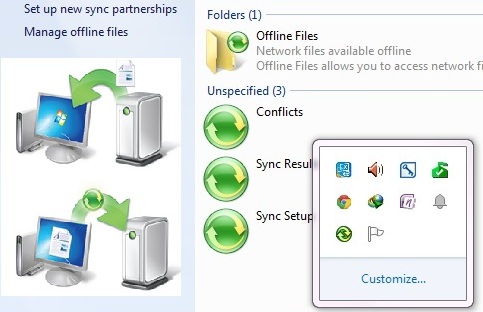 Drop box, Google Drive are few example to synchronize online files. I have been using Google drive and I have no complain so far. My work day is segregated into office, home and private work, which occurs in three different places (home, office and private office).
Desktop at office and home
Laptop for my private work
Online synchronization requires fast internet, which I have access in office only. Which means desktop at home can't synchronize with other computer. Manual transferring and organizing is tedious and require large human memory. It leads me to an offline synchronization. My simple offline technique to synchronize all my computer is make laptop as network cache which I carry along with me whole time.
First Google drive folder in my laptop is made shared in home network.
The Google drive synchronize my laptop and office desktop.
For offline sync in home:

Connect my home computer to same network as of my laptop
Browse shared Google drive folder in laptop through network places.
Right click to the folder and make it " available offline"
My Google drive folder is now synchronized in all computers online and offline.