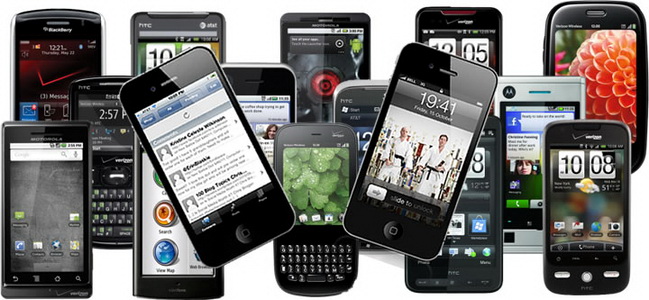 The competition of smart phones are heating up these days. Consumer have choices and various brand with there to look at. In fact the competition is among operating platform rather than smart phone manufactures. The current I/O in smart phones are:
Iphone – iOS
Google – Android
Microsoft – windows 7
Nokia – Nokia OS
Iphone – iOS
Its a premium brand of smart phone and is pioneer mobile operating system and mobile manufacture at current time. The visionary Steve jobs of Apple is all behind all this.  But after October 5, 2011, the expert says the future of apple will be decided on steps of current CEO Tim Cook. Although the market share of apple is degrading day by day. the reason behind this is that people don't have choice in Iphone devices and its monotonic in design. The app and music are controlled by apple company and People don't have choices they want.
Although Iphone have special position in people. they like its sleek, sexy design. the touch and skin of Iphone is irresistible.
Google – Android
With in 3 years of its carrier it showed lot of promises. Since it is open platform developers and mobile manufacture have different choices and compete according to their strength. The popularity of Google phones are based on choices of phones and apps. Near field communication, WiFi hotspot, and their periodic upgrade of there operating system is the strongest features of the Google products.
The recent operating system is Ice cream sandwich which come up with theme "one operation system to every devices". The Android is second in smartphone market share and it will not take a long to become No. one. To compete in mobile space Google has bought Motorola mobile company to speed the android development.
Microsoft – windows 7
Now Microsoft is also taking the smart phone business seriously. The operating giant in personal computer is trying hands on mobile business with windows 7. It will be quite interesting to see whether windows 7 be open platform or will it choose apple's controlled platform.
 Nokia – Nokia OS
After Jar and sis platform Nokia is in market with Nokia OS to compete smart phone market but earlier performance and failure to take step on failure of operating system has back down the Nokia. Nokia is also competing with windows 7 in market.
Check out next post on how to select smart phone when you are in market.