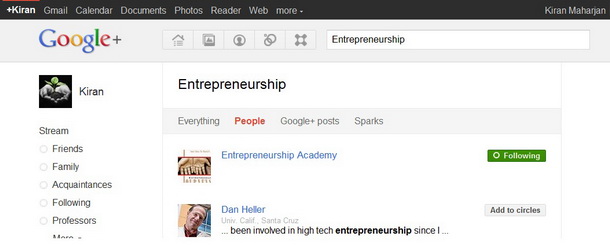 I am regular user of Google+ and Google spark is my personalized search engine. I would love to trace certain topic like entrepreneurship, entrepreneur, Leadership etc. The Google sparks search them an put them in chronological order and I love to read the recent developments.
Today when I open my spark browser, It gave me the options "Everything, People, Google+ post, Sparks". Cool it was more than my expectation. Now I can follow the author or specialist of particular field and recent development. What Google+ posts does is, it shows the post within G+ which are posted publicly. It allows me to have a local and personal news in my browser.
The battle of Facebook and G+ is going strong. No mater which wins, its has provided stepping stone towards social networking and innovation in transferring social news.